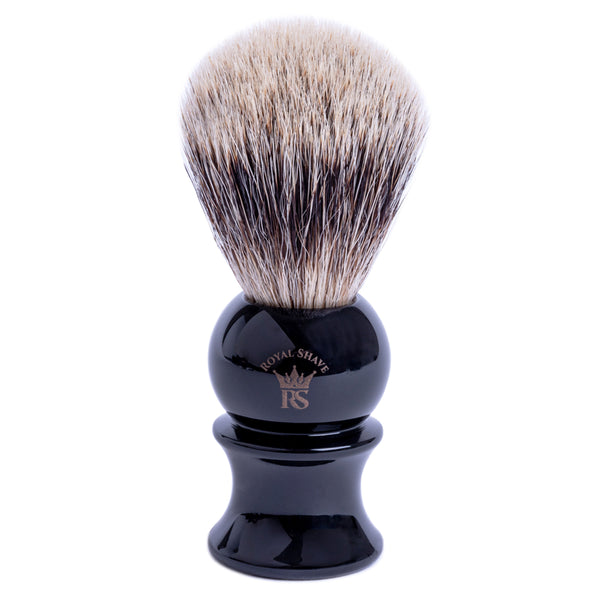 Royal Shave PB2 Best Badger Shaving Brush, Black Resin
Shaving Brush 101 | How To Build Lather
The variety of shaving brushes on the market can make choosing one a bit daunting. For those of you that want nothing more than a close, no-frills shave, look no further than the Royal Shave PB2 Best Badger Shaving Brush. This shaving brush is outfitted with genuine best badger bristles- a cut known for its balance between soft and firm. They offer some exfoliation and lift the beard for great shaving prep while still providing a comfortable experience. Lathering is no issue with either hard soaps or soft shaving creams making this brush flexible for those beginning their wet shaving journey.
Holding it all together is a high-grade resin handle that doesn't require routine maintenance like horn or wood. Its contoured body is a pleasure to hold through countless qualities shaves to come.
Don't forget about brush accessories- a brush stand or complete shaving stand will allow your brush to dry properly, ensuring a continued quality shave.
Knot: 22mm | Loft: 50mm | Total Brush Height: 4.5"
Great brush
Bought as a replacement because I think this is the best, Best Badger brush.
very good brush
A very good, firm brush that holds your shaving cream well. Every time I use it, it looses some hairs. I hope this ends after a few uses.
Another top quality brush
Ive bought the silver tip badger brush from Royal Shave and absolutely love it, but that's my home brush. I bought this brush for traveling purposes and am surprised, yet again, by the quality. It feels amazing and lathers soap nicely. Excellent quality in my opinion!