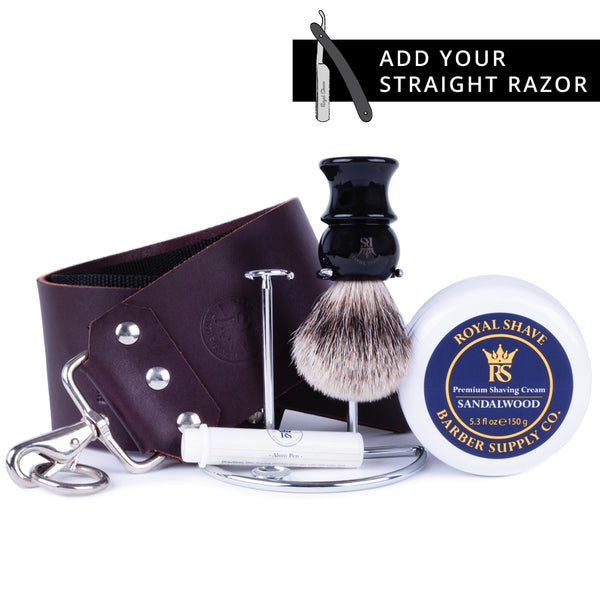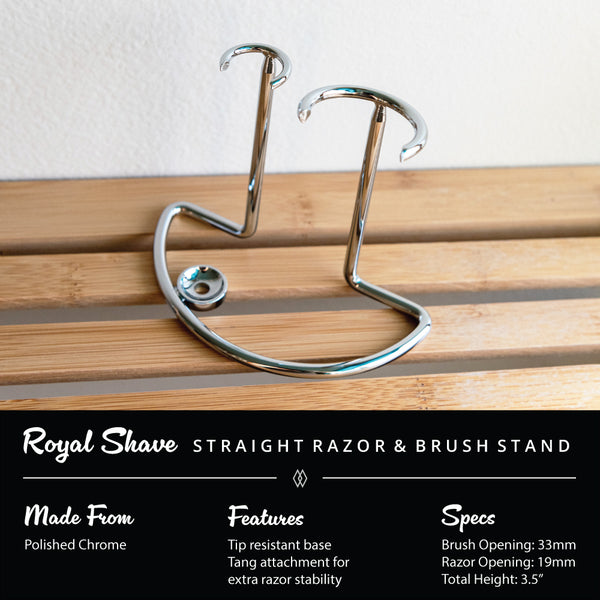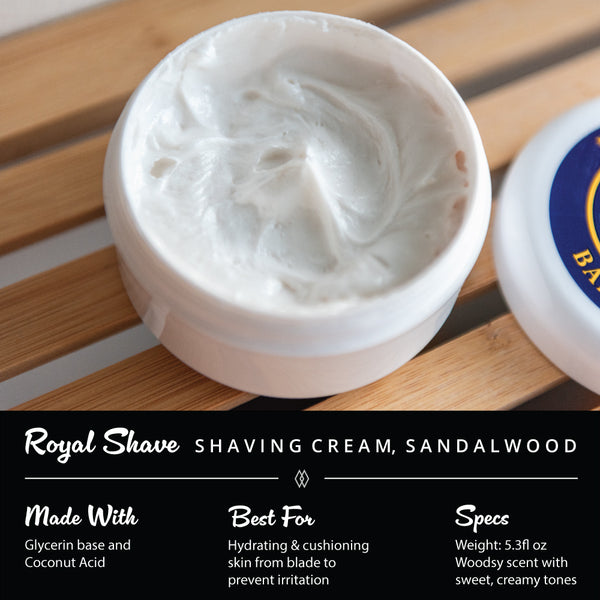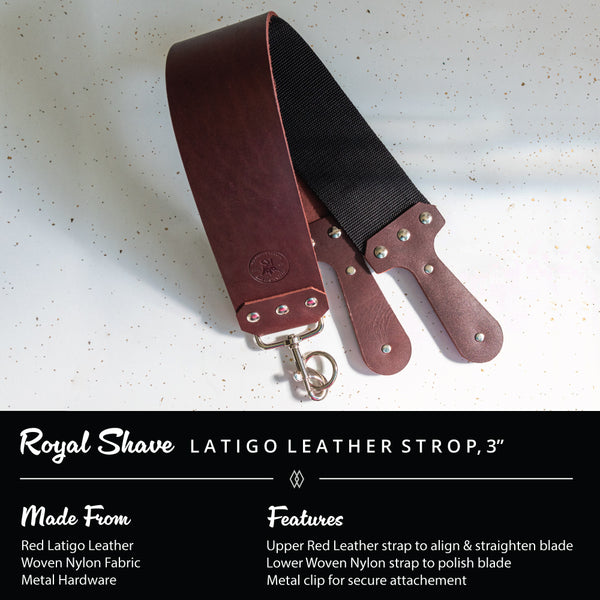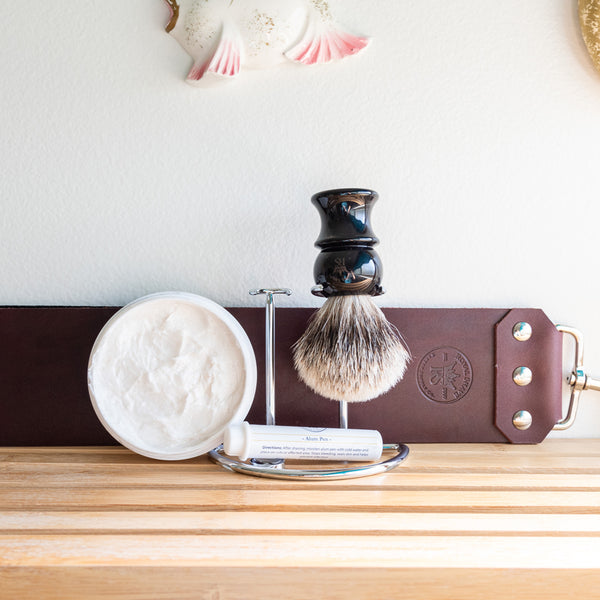 Royal Shave 5-Piece Add-On Straight Razor Set
Look no further for the perfect complimenting accessories to your favorite Straight Razor. The Royal Shave 5-Piece Add-On Straight Razor Kit includes all the essentials needed to achieve a close, comfortable shave. Take a closer look at what this set has to offer:
Royal Shave Red Latigo Leather Strop, 3" : Durable yet flexible, our genuine Latigo Leather Strop is the perfect tool to align and prep the blade if any classic Straight Razor. Its 3-inch width gives plenty of space for the perfect draw each time. The upper leather strip is complimented by a webbed nylon fabric of the same width to polish your blade once stropping is complete. This strop is designed with a heavy duty metal clip and metal ring for secure attachment to any rod or hook. The opposite end features an extended handle for comfortable grip while strop is in use. Made in USA. Dimensions: 17" x 3"
Royal Shave Straight Razor and Brush Stand: Proper storage of your Straight Razor and Shaving Brush is key to their longevity. Our wide base stand is tip resistant and chrome finished to prevent rust. The base features a machined circular attachment to place the tang of your razor for secure storage. This stand accommodates most sizes of Straight Razor and Shaving Brush alike.
Royal Shave Premium Soft Shaving Cream: Supple right out of the jar, our premiere Shaving Cream easily creates a rich lather to provide supple cushion between skin and blade. Glycerin and Coconut Acid hydrates and balances skin, putting an end to irritation and razor burn.
Royal Shave PB2 Shaving Brush: A contoured, solid resin handle gives away to genuine best badger hair bristles. Best badger is known for its balance between remaining soft on skin, yet retaining the stiffness needed to whip up the lather of your dreams. Brush Specs: 22mm Knot | 50mm Loft | 4.5" Total Brush Height
Royal Shave Alum Styptic Pen: Nicks, scrapes or even cuts can happen to the most experienced wet shavers. Royal Shave is pleased to offer a natural, fast way to stop bleeding and soothe skin post-shave. Approximately 2.75" of aluminum sulfate is crafted into a convenient pen shape to easily stop bleeding and seal skin to prevent further discomfort. Simply moisten the pen with cold water and place on cuts or affected area. Some slight stinging may occur. Be sure pen has dried before replacing cover. Measures 3.25" with cover.
Great product
The leather strop is perfect for my dovo astral straight razor, the ceramics bowl is great and the soap smells wonderful, (will be ordering this scent again) the only thing I didn't like it the stand, wish it could be a little bit taller so the shaving brush that it comes with won't touch the surface of where it's placed. Other than that everything else is great. I would recommended that the kit would come with leather paste instead of the styptic pen .
Nice kit but the blade is totally dull!
kit okay
too bad the bowl is arrived with a notch
Great Gifts
I have purchased a RoyalShave Straight razor kit for myself, and just loved the product. I have been shaving with my shave ready Dovo straight razor for approximately two years now. I still get a thrill every time I use it.
I have found that it also makes for a great gift for my male friends and relatives. I've purchased 3 kits already and will probably purchase more for people who have the capacity to appreciate a high quality gift. I just wanted to thank RoyalShave for putting together a nice little shave kit. Job well done!
Great quality set. very impressed.
Great quality set. very impressed.