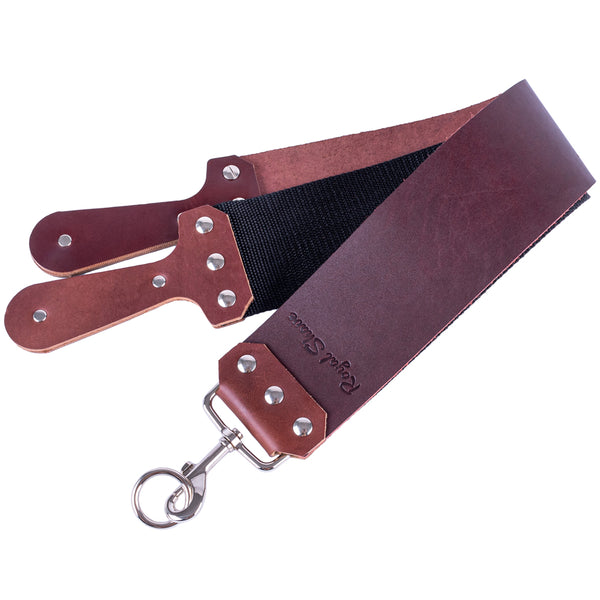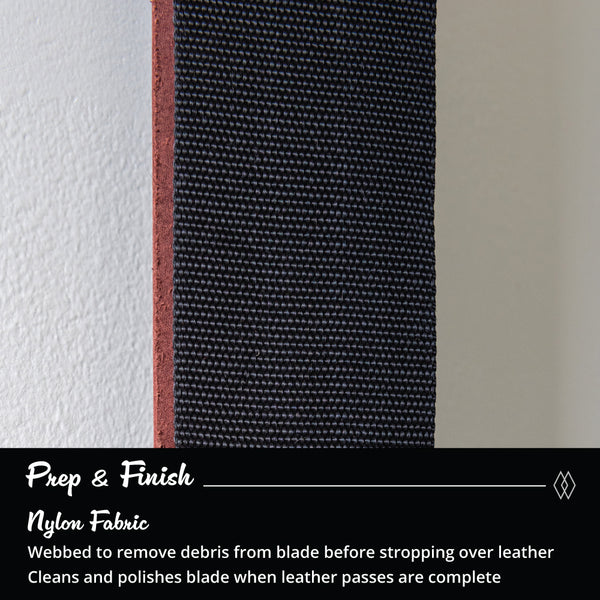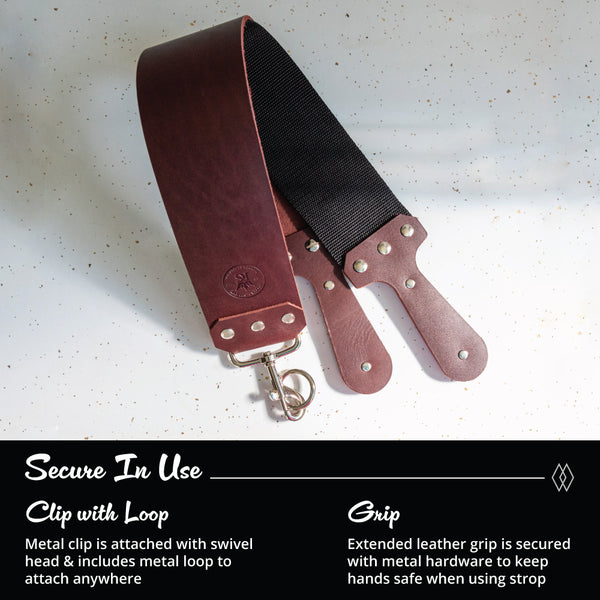 Royal Shave Red Latigo Leather Strop with Handle, 3"
Royal Shave is proud to offer the best way to sharpen, align and polish the blade of your Straight Razor. Handcrafted in USA, our strop offers high quality materials without compromising on function and design. Upper Latigo Leather material is dual tanned using chrome and vegetable processes to create a pliable, yet strong and smooth surface for sharpening & re-aligning blades. A lower woven Nylon material is prime for removing debris before and polishing after completing passes over Latigo Leather. The top of the strop features a secure metal clip outfitted with a removable loop. The clip is designed to swivel, giving you complete control of your session. The opposing end of the strop is a long, leather handle area to keep hands safe when in use. Metal rivet-like fasteners tie all sections of the strop together, ensuring this essential tool will last.
Quick Guide on How To Use: Secure the strop to a immovable object. A towel bar or robe hook is ideal. Remember that the strop must be pulled taught when in use. Lay the blade the Straight Razor flat against the leather and glide it toward you. Use light and even pressure. Then, twist your wrist to flip the blade over, keeping the spine of the glade against the leather. Keep the blade flat as you upstroke. Repeat toward and away passes about 40-50 times. Once complete, flip the strop so the webbed Nylon is the primary surface. Repeat same pass instructions about 3-5 times to clean and polish the blade.
Total Length of Strop: 28.5"
Total Length of Blade-Use Surface: 17.5"
Total Width of Blade-Use Surface: 3"
3" the right width..
Great strop quality yet the illustration on sight is somewhat confusing... showing of frontal blade going (pointed) towards you not the back for sharpening. Checkout other sights for proper sharpening.
Red Latigo 3in strop
Excellent quality, fast delivery. I have used this strop 4xs since purchase it keeps my dovo razor perfect for A shave.
Royal shave red Latino leather strop.
Excellent quality, reasonably priced with the help of Royal Shaves experts I found the best looking and functioning strop.
Great strop
This strop couldn't be better. Looks like a million bucks hanging in my bathroom and keeps all my straights razor sharp. My last strop had a felt side and I wasn't sure if I'd like the mesh but I like it better. Ordering was easy and delivery was on time.
Very nice
New to straights and this was my first strop. Got it because I knew I wanted to use paste so I needed two strap strop (for new guys like me -- you need the backside of the linen/poly). Leather feels great. Fast delivery. Great service from Royal Shave!