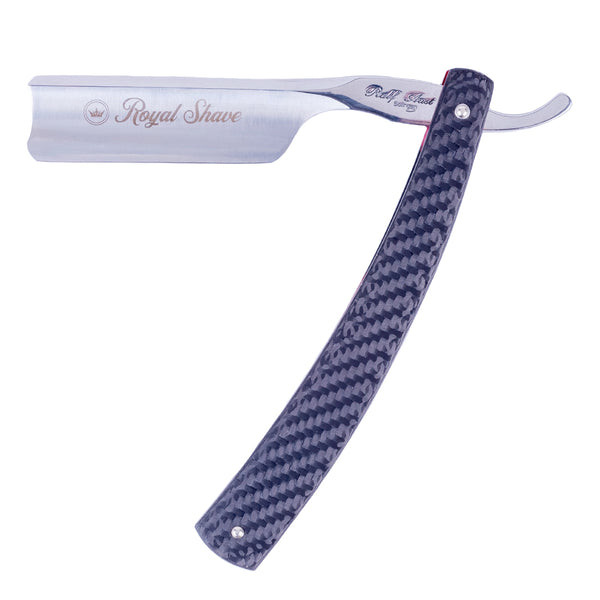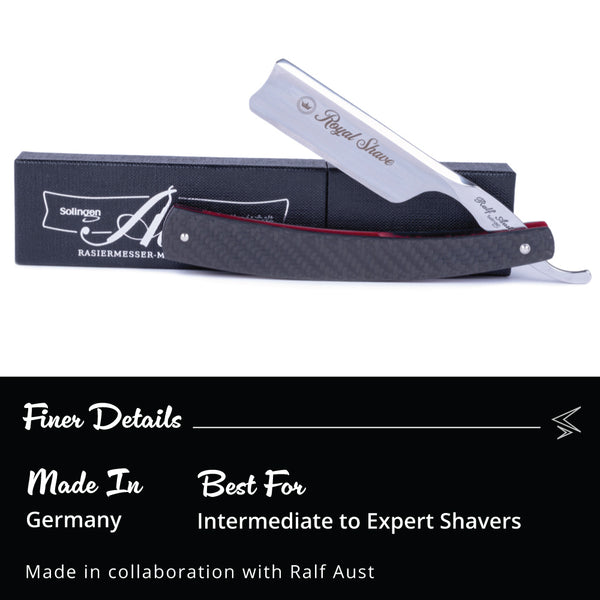 Royal Shave 6/8" Full Hollow Spanish Point Carbon Steel Straight Razor- Carbon Fiber
Straight Razor 101 | How To Use and Care For Straight Razors
The 6/8" Full Hollow Spanish Point Straight Razor is a weighty shaving tool recommended for intermediate to expert level shavers. A 6/8" blade width is ideal for grooming thicker or stronger growth while the full hollow grind provides subtle flexibility for a comfortable shaving experience. The overall weight of the carbon steel blade is heavier than most meaning little pressure is needed for a comfortable glide.

Carbon fiber scales provide a modern look while delivering unmatched durability. This lightweight material is resistant to moisture, ensuring longevity.    
Please note that carbon steel blades are not stainless. They require a simple wipe down after use to stay looking and performing their best. Our barber towels are the ones for the job!
This razor is ready to shave right out of the box. For future care, we recommend our shaving strop. To learn about our other recommended essentials for straight razor shaving, see our 5-Piece Add-On Straight Razor Set.
Made in Solingen, Germany in collaboration with Ralf Aust.
Dashing
I like this razor so much I am going to look at buying another...
It sharpens easily and is fun to use...
Great razor
this is a great straight razor. The handle is great when shaving. Has great grip and and mold to my fingers. Besides its function it looks great!