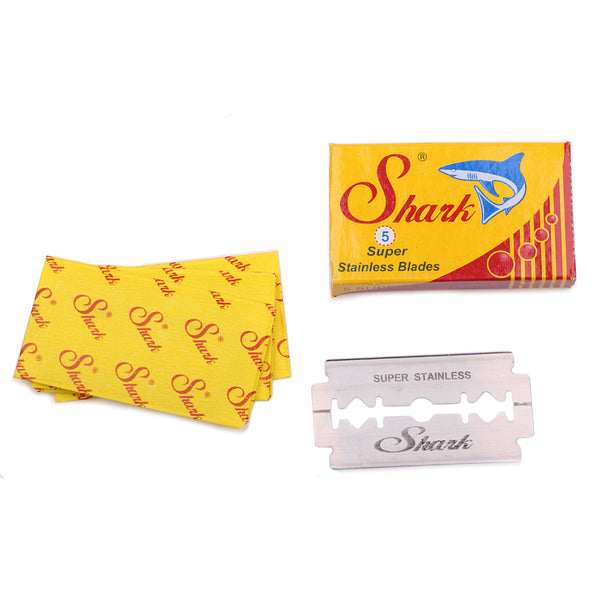 Shark Super Stainless Blades
The Shark Super Stainless Blades are the perfect solution for an economical stainless steel blade. It combines Swedish stainless steel and Wilkinson Sword Technology to turn out a high quality product. Shark blades have a pristine reputation among wet shaving enthusiasts. Made in Egypt.
Keep blade disposal safe with a Blade Safe Disposal Bank.
Decent Blade,but Short Life
The ad for this blade references Wilkinson technology which is misleading. These blades are actually made via licensing under Lord (which is made under the Wilkinson licensing empire). Wilkinson is a fine blade; Lord much less so.
I bought these Shark blades under a 99 cent special. They may be worth it at that price, but not their regular price of almost twice that much. While a smooth, forgiving blade, they only last about 2+ shaves. By the third shave they were tugging and dull as a butter knife.
I would recommend Wilkinson blades, but not Lords or these knockoffs.
The Russian Gillette's are the best overall value IMHO. I get 6 - 7 shaves out of the latter.
Very Nice
These blades cut just as well as the merkur or derby blades. If you want good blades for a cheap price get these.
Favorite from the multi-pack
I tried the Royal Shave assortment of 10 types of blades and this was tied for first place for me. It's not the absolute sharpest blade and may not give the absolute closest shave, but it's very very smooth. It's so smooth that I would shave with this blade and regular hand soap as lather, with no issues.
WOW...was not expecting this.
These blades are simply wonderful. I have a tough, wiry Italian beard but I also have very large pores and my skin is textured and very sensitive. I had been using Feather blades for the longest time thinking that was the best I was going to get from a DE blade. I was wrong. Feather blades are wicked and brutally sharp, yes, but they are very unforgiving as well, and if you have big pores or any texture to your skin whatsoever, it will mow down all the hair as well as any skin that is hanging on at the follicle. The ensuing blood bath I was experiencing after every shave was a thing of much stress. I decided to try a variety of other blades to see if maybe I had other options. I shaved with this blade this morning and I was simply amazed at the performance. It is sharp enough to cut through my thick beard hairs yet it left not a drop of blood in its wake. No irritation either. Superbly smooth and forgiving blade, this one left me shaking my head wondering why I had waited so long. Keep in mind, blades are completely person-specific, and what works for one may be horrible for another, and this goes for the blades performance in different razors as well, but this one is the blade for me. Cannot say enough about how badly this thing put a Japanese Feather to shame. They're cheap enough. Do yourself a favor and try one. What have you to lose??