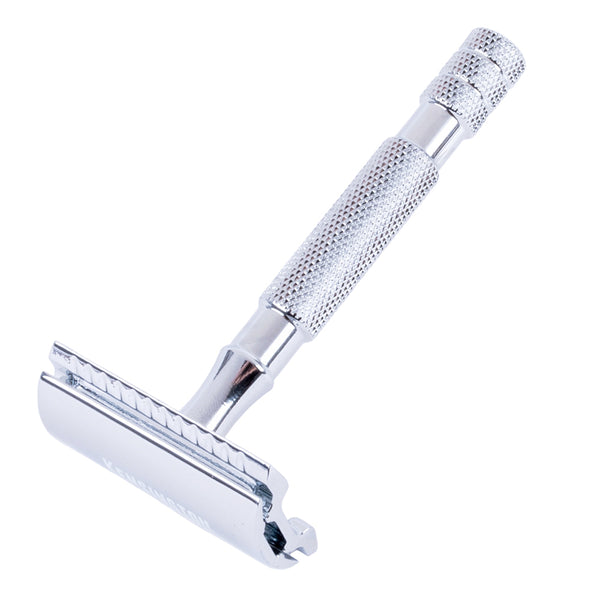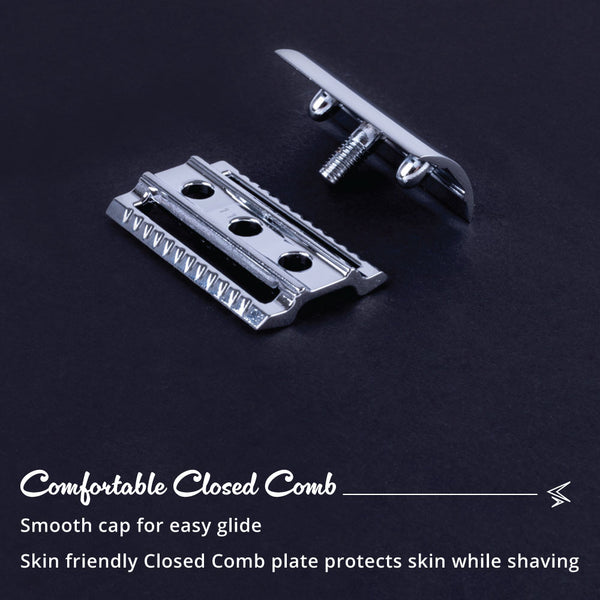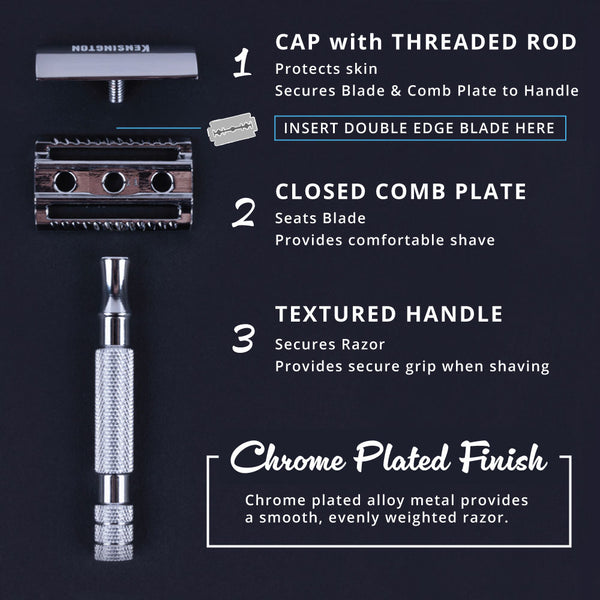 Kensington Classic Double Edge Safety Razor
Kensington's Classic Safety Razor is a no-fuss shaver that will get the job done right. Chrome plated alloy metal provides quality shave after shave. A smooth head compliments a close comb plate for a skin friendly, mildly aggressive shave. The razors balanced weight provides the idea pressure for a comfortable, irritation free shave. A comfortably sized 3.125" handle fits most hands comfortably. The handles knurled (thatch-style etching) provides a secure grip in moist conditions.
This safety razor is formed from 3 pieces. Simply turn the handle to unscrew the Cap. The Cap features a standard two-peg design to secure most double edge blades with ease. The razors overall construction allows for easy cleaning and care- the perfect tool for all wet shaver skill levels- even beginners!
Total Razor Length: 3.35"
Check out Luxury Shaving Cream and Aftershave for comfortable post-shave skin.
I have not recieved it
I have not recieved it yet?
Present for husband
I bought this for my husband this Valentine's day. I did not purchase the blades. So for now we do not like the razor popular store bought blades do not fit the razor well. I have to look online for some that fit well and if we find some, I will rewrite my review and rate it better.
Solid.
This is a good product. It's just like my Merkur razor but it costs less.
Gift
He was very happy to recurve his first razor .
Razor Analyst
I really liked the other 2 Kensington products I bought so this seemed like a good price for a basic razor.Quite nicely finished and although it looks like the basic Merkur it is more aggressive in a positive way. At this price hard to beat and feels nice in the hand.Cannot go wrong with this brand and price.