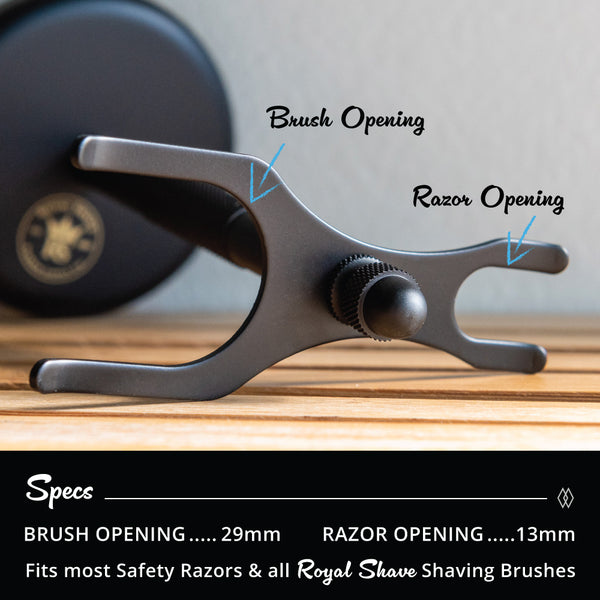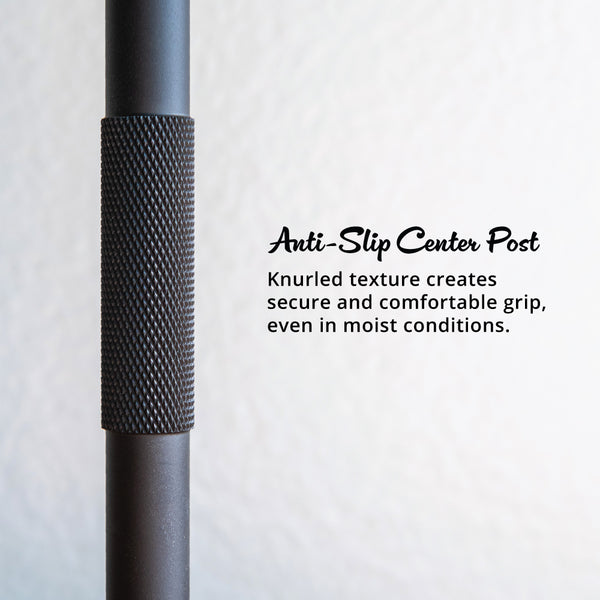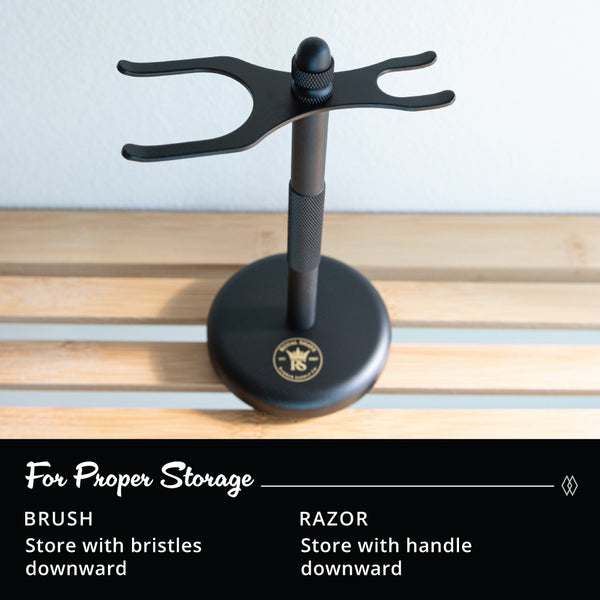 Royal Shave Safety Razor and Brush Stand, Matte Black
Royal Shave's Safety Razor and Shaving Brush Stand allows for proper storage of your favorite wet shaving essentials. The stand features a tip-resistant, weighted base. The knurled center post ensures a secure grip when moving- even when hands are wet. The upper cross section has two spaces- a wider opening to accommodate all Royal Shave Brushes and a narrow opening perfect for most Safety Razors. A black powder coated finish lends a sleek, modern look while keeping the stand rust free.
How to properly store your Shaving Brush: Hang the brush with bristles pointing downward, toward the base of the stand. This will prevent excess moisture from collecting where the bristle knot is secured into the handle and causing breakdown of the glue or threads used to hold the brush together.
How to properly store your Safety Razor: Hang with the razor head facing up, handle pointing toward the base of the stand. Doing so will protect moisture from collecting on the blade and in the head area.
Total Stand Height: 5.9"
Brush Opening: 29mm | 1.25"
Razor Opening: 13mm | .5" approx.
Does the Job
I have had a chrome stand for at least 5 years. No rust no tarnishing, always wipes clean. So I bought this one for my son. Black matches his brush and brass razor. Don't store your brush with bristles up, rots the bristles in the handle, shortens the life of your brush! Quality made!
The real "universal" brush stand
This stand fits all my black themed brushes. Satin Tip The Purest, Beauty7 Synthetic, Da Vinci UOMO Synthetic and Scaramouche Fandango Synthetic.

It can fit ANY of my other shave brushes too including the Gentleman's Hangar, Everyman Jack, GBS Synthetic 3rd Gen and Omega Hi-Brush Synthetic. I believe it will also fit a few of my custom turned hand made brushes as well. This stand is one that I highly recommend.

Pictures of my black shave kit that this stand is used in:
http://theshaveden.com/forums/threads/first-double-safety-razor-shave-kit-complete-pictures.51522/
Love it !
Exactly as I expected. High quality for a great price. Definitely will continue to buy from RoyalShave