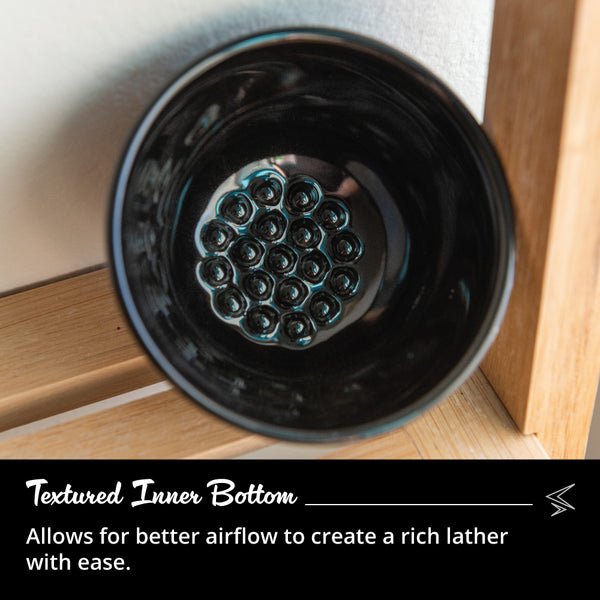 Royal Shave Ceramic Textured Shaving Bowl, Black
The Royal Shave Ceramic Textured Shaving Bowl puts a new spin on an old classic. A full ceramic body features a textured honeycomb style bottom to help create quick, fluffy lather. They also help hold your favorite hard shaving soap pucks in place when its whippin' time. The bowl naturally retains heat to provide a warm barbershop like shave at home.
Size IS important- which is why we designed this bowl to fit comfortably in the palm of your hand. Its 3.5" diameter accommodates the average soap puck while 2" sides provide just the right amount of space to hold lather. Can also be used with soft shaving creams.
For the ultimate shave experience, check out our collection of quality shaving brushes.
Height: 2" | Diameter: 3.5"
Have questions on lathering? Check out our guide.
Ceramic Shaving Bowl
This bowl is a good quality and I really like the texture bumps in the bottom of the bowl. However the bowl is small (Like the size of a grapefruit in your hand) so it is challenging to whisk up a lather using a shaving brush. This would be a good bowl if used for traveling. It would be great if this bowl were offered in a larger size.
Good quality just not what I need
Great little bowl and it is little. If u have a small brush it will work great.
Too small...
I like the textured bottom, but I find the bowl is too small. Soap spills up and over the sides when building lather; I think I will shop for something bigger.
Shaving Bowl
Nice bowl. Fits nicely in my hand. Just know it will break if dropped.
NICE SHAVING BOWL
This is the perfect sized shaving bowl. the textured bottom really helps make lather quickly, for 12.00 you can't go wrong.