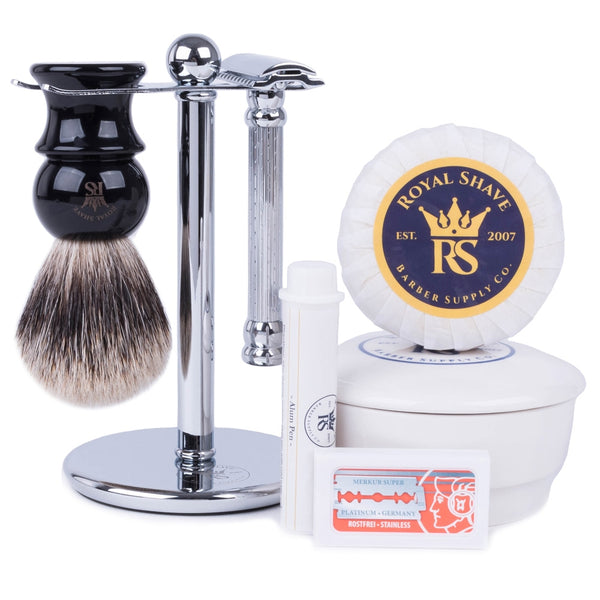 Royal Shave Merkur 47C Safety Razor Set w/ Lemon Sandalwood Shaving Soap in Ceramic Bowl
This is a complete set that has everything you need to get started with wet shaving. We put this set together for those of you who are looking for a high quality set with a mid-weight, long handle razor for an efficient shave:
Royal Shave PB2 Shaving Brush: Best Badger bristles are soft on skin, yet rigid enough to create a rich, creamy lather for a comfortable shave. Its high grade resin handle is contoured to provide a safe and secure grip in slippery conditions.
Royal Shave Lemon Sandalwood Shaving Soap: A classic vegetable based shaving soap that contains a fine selection of natural ingredients, such as hydrating shea butter and coconut oil to nourish and hydrate the skin. It creates a slick lather allowing the razor to glide across your face. Take pleasure in a woodsy scent with citrus notes for a soothing shave.
Merkur 47C Safety Razor:  A heavy duty double edge with a long, engine-turned handle. It has a polished chrome finish with hefty handle so you don't need any added pressure while shaving. The handle is gorgeously lined which gives it a great grip that won't slip.
Royal Shave Safety Razor and Brush Stand: Timeless polished chrome provides not only a classic look, but durability in moist conditions. Its weighted bottom provides stability to ensure your wet shaving tools have a safe space to dry and be stored when not in use. 
Merkur Super Platinum Stainless Blades: You guessed it- another fan favorite! These double edged blades are crafted from Stainless Steel and coated with Platinum for a sharp, smooth blade. Their flexibility is suitable for an irritation free shave for most skin types. One single pack provides 10 individual blades.
Royal Shave Alum Pen: Even the most experience shavers experience nicks and cuts from time to time. Our alum pen is cut from natural, antiseptic alum to provide quick healing power to most forms of shaving irritations. Simply dampen the alum and apply for soothing relief. Plastic cover protects and keeps the pen clean when not in use. 
Ingredients
Lemon Sandalwood Scent Shaving Soap
Potassium Palmate, Sodium Palmate, Potassium Stearate, Potassium Palm Kernelate, Sodium Stearate, Sodium Palm Kernelate, Aqua, Glycerin, Palm Kernel Acid, Parfum, Sesamum Indicum Seed Oil, Sodium Chloride, Pentasodium Pentate, Tetrasodium Etidronate, Hexyl Cinnamal, Limonene, Linalool