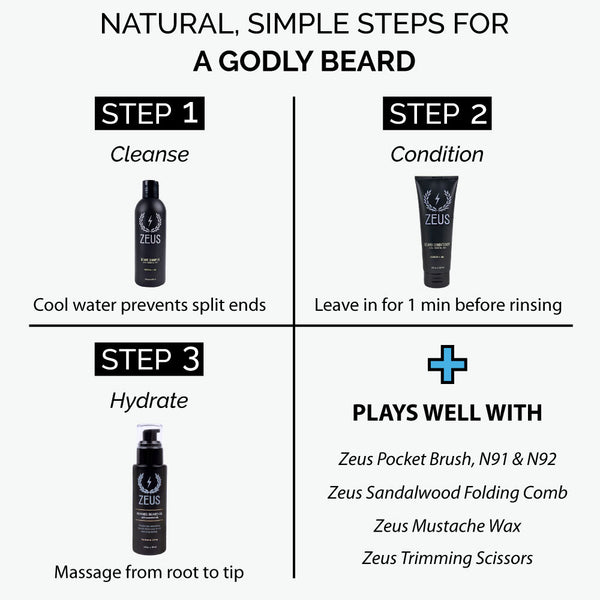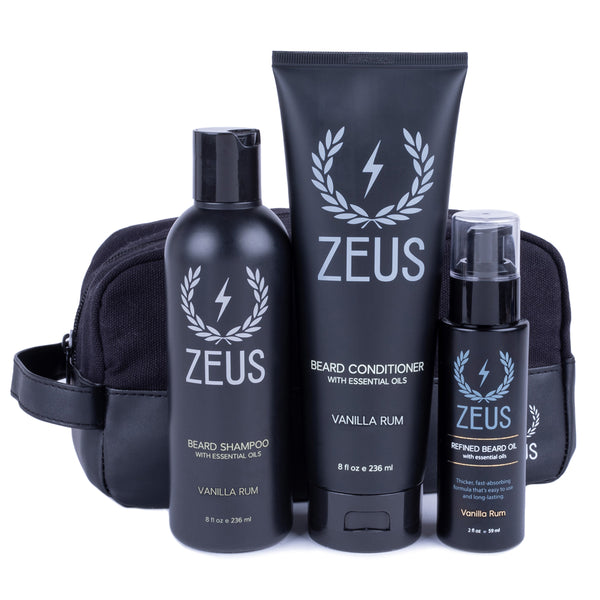 Zeus Thick or Textured Starter Beard Care Kit
This version of our 3 Piece Beard Care Kit contains our simplified, thicker consistency Refined Beard Oil alongside our Natural Beard Shampoo and Beard Conditioner. Daily use cleanses both hair and skin without stripping natural oil for less irritation. Paired with our Aloe and avocado based Beard Conditioner, you'll be able to feel restored moisture in both hair and skin. Daily use of our almond and avocado base Refined Beard Oil will prevent flaking and beard itch. It absorbs quicker without clogging pores, making it ideal for those with sensitive skin prone to acne or ingrown hair. As that beard grows beyond stubble, you'll surely want to add to your beard care arsenal. This set comes with a roomy metal Zeus tin that's great for gifting and storage.
---
What's Inside:

Zeus Beard Shampoo, 8 fl oz:

 

Put down your regular hair shampoo, and use this specially-formulated shampoo to cleanse your beard without irritating the sensitive areas on your face. Ingredients like Dragon's Blood and green tea work to clean and calm your skin, and a verbena lime scent keeps you smelling fresh.
Zeus Beard Conditioner, 8 fl oz:

 

Strengthen your hair and eliminate itchy skin with this moisturizing conditioner. Pro-Vitamin B5 and avocado oil keep your hair soft and healthy, while aloe vera and green tea calm and re-hydrate the skin beneath your beard.
Zeus Refined Beard Oil, 2 fl oz:

 

As pure as they come, this Beard Oil is unlike anything else you have experienced before. It is crafted with only 6 ingredients- including Argan, Avocado, Almond, and Soybean Oils- to ensure nothing but the best reaches hair and skin. A thicker, gel like consistency is fast absorbing to unleash supreme beard powers. Just trust us.
---
Paraben Free | Sulfate Free | Cruelty Free
---